Actisport Daily Kids Workouts

Many thanks to Graham Crory of Actisport Newcastle for putting together interactive exercise videos for the children. A lot of our pupils are missing their weekly sessions after school with Graham so this is the next best thing.
Follow the link below or search Youtube for "Actisports Kids. All of this can be accessed through an ipad/laptop or your smart TV.
Enjoy
New Football Kit Sponsorship by AJC Group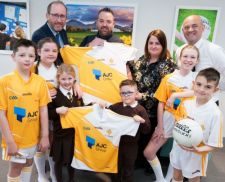 St Joseph's are delighted to take delivery of a complete football kit kindly sponsored by local business men Chris and Michael Clarke of The AJC Group.
The school are very thankful to the Clarke brothers for their support not only in this sponsorship deal but for all the support they offer St. Joseph's through the year.
Pictured are Mr Stephen Knight PE Coordinator, Miss Lorna Mallon kit designer, Chris Clarke AJC Group and Chris McCann Principal.
(Photo Mourne Observer)
Updated School App Available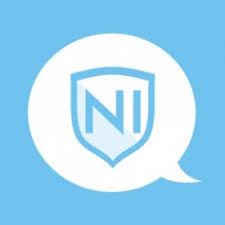 The updated Smart Phone App will make it easier to keep an eye on news updates and it will notify you when anything is added. It is available on Android and IOS (Apple).
Simply go to the App Store or Google Play on your phone and search for "SCHOOLS NI"
Download the App for Free.
You will see other schools on the App that use the same platform so select Carnacaville and tap the star in the top right corner to make us your favourite.
Stunning Views of Carnacaville
Thank you to Magnetic North Drone Photography for providing such splendid views of our school grounds and stunning surroundings.
Upcoming Events...
Saturday, 11th April 2020
Easter Holidays
Monday, 13th April 2020
Easter Holidays
Tuesday, 14th April 2020
Easter Holidays
Wednesday, 15th April 2020
Easter Holidays
Thursday, 16th April 2020
Easter Holidays
Friday, 17th April 2020
Easter Holidays
Saturday, 18th April 2020
Easter Holidays
Monday, 20th April 2020
School reopens Today
Friday, 24th April 2020
P4 Commitment Service CANCELLED (10:00am Mass Our Lady of The Assumption Newcastle)
Friday, 8th May 2020
May Bank Holiday
St Josephs Primary School, 25 Carnacaville Rd, Newcastle BT33 0JS
028 4372 2185