OPEN MORNING FRIDAY 8th DECEMBER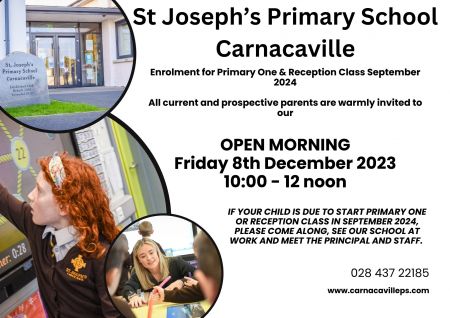 Scoil Spreagtha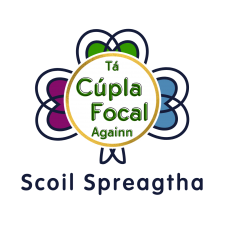 We are delighted to announce that we are one of the chosen schools to take part in the brand new accredited scheme 'Scoil Spreagtha'.
'Scoil Spreagtha' is an accredited scheme to recognise and celebrate efforts made by English-medium schools to encourage the use of Irish in the school environment. 'Scoil Spreagtha' in its design aims to inspire schools to showcase and expand their efforts to promote the use of Irish in the school setting.
'Scoil Spreagtha' is the most substantial scheme for the promotion of languages in NI's education system since the termination of the Primary Modern Languages Programme in 2015. Running from November 2023 to June 2024, we aim to develop the use of the language in the daily life of our school.



Cuireann sé gliondar ar ár gcroithe insint daoibh gur roghnaíodh muid le bheith ar scoil de na scoileanna a bheas páirteach sa scéim chreidiúnaithe úr 'Scoil Spreagtha'.
Beidh 'Scoil Spreagtha' ina scéim chreidiúnaithe agus cheiliúrtha a spreagfaidh na hiarrachtaí sin i scoileanna lán-Bhéarla úsáid na Gaeilge a chothú i dtimpeallacht na scoile. Forbraíodh 'Scoil Spreagtha' ar an chuspóir go mbeadh an scéim ina hinspioráid ag scoileanna a n-iarrachtaí ár dteanga dhúchais a chur chun cinn i suíomh na scoile a léiriú agus a mhéadú.
Tá 'Scoil Spreagtha' ar an scéim is mó agus is tábhachtaí i gcur chun cinn na dteangacha ó thuaidh ó cuireadh stop leis an scéim 'Primary Modern Languages' i 2015. Ag rith ó mhí na Samhna 2023 go mí an Mheithimh 2024, tá muid ag iarraidh Gaeilge a úsáid agus a dul chun cinn tríd an lae inár scoil.
More Football Success for P7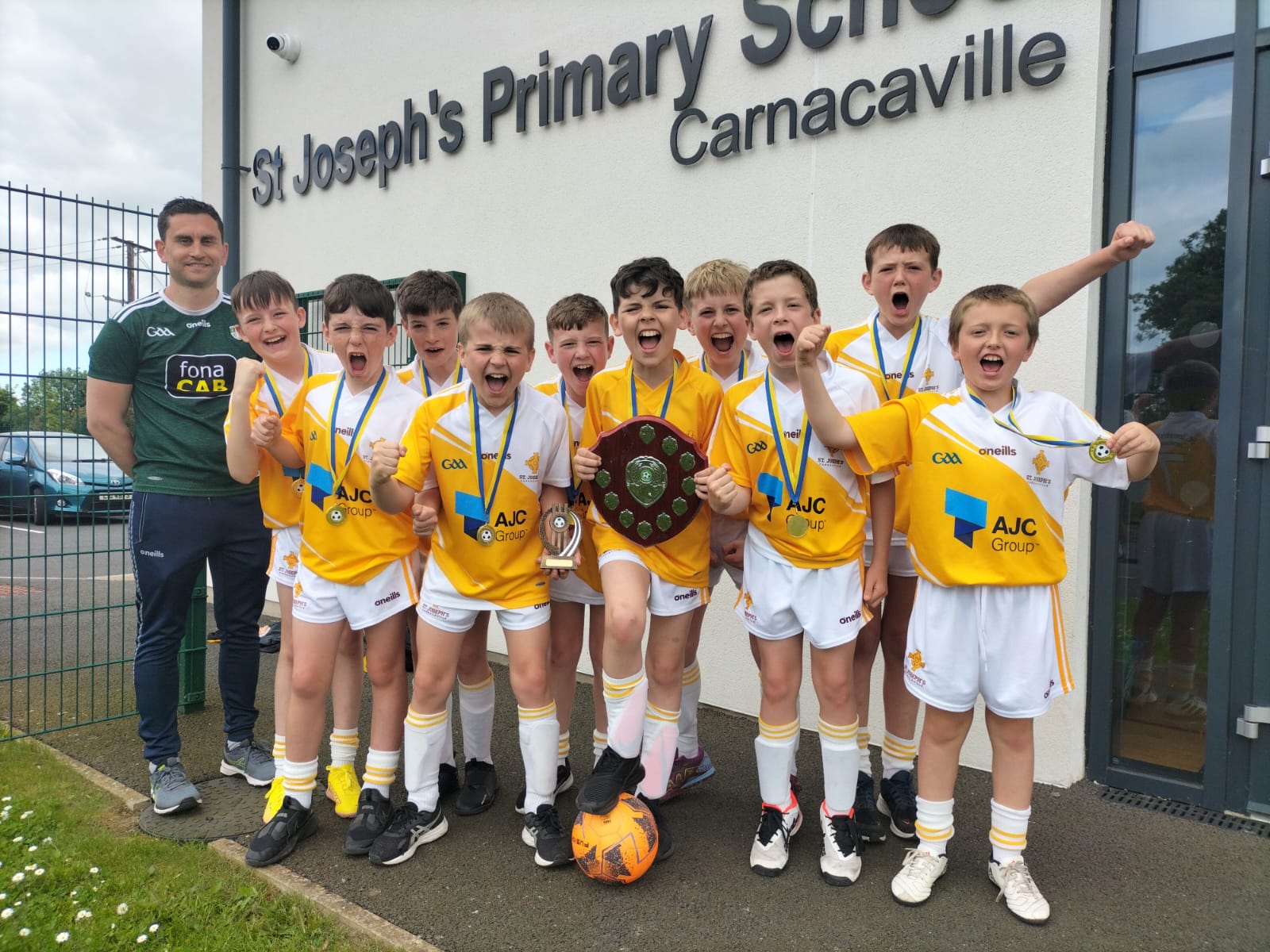 On Friday, the Primary 7 boys visited Donard Park for a 7 aside soccer tournament. To begin, we entered the league stages of the competition. Throughout the morning, we had to play seven different schools from the surrounding area so we could hopefully qualify for the semi-final. The boys worked hard all morning and played some excellent attacking football, winning all seven games and topping the group. This brought us through to the semi-final stage. Here we played a very talented St. Mary's side. After a strong opening two minutes, and a well taken goal by Eoin Smyth, we had some disciplined defending to do. Fortunately, the boys were up for the challenge. We had a superb display at the back from Conor Adair and our goalkeeper Hayden Blackam. Having qualified for the final, the boys were determined to work hard and play as a team. We faced a talented Cumran Primary School in the final. Once again, it was a tight affair with Eoin Smyth grabbing the decisive goal. The boys played superbly all day and thoroughly deserved the victory. They were an absolute pleasure to watch and they played with a smile on their faces the whole time. A massive thank you must go to All Children's Integrated Primary for organising the event. The organisation and preparation involved were fantastic. To top it all off, one of our players, Eoin Smyth was awarded with Player of the Tournament. A well-deserved accolade for Eoin who was fantastic all day. Lastly, a huge well done to the St. Joseph's Carnacaville side. What a wonderful achievement boys! The squad included: Hayden Blackam, Conleth Lennon, Conor Adair, Riley Boden, Calum McLaughlin, Ryan Thornton, Eoin Smyth, Ollie Toner, Aodhan Toman and Matthew Rafferty.
P7 Team Success at St. Louis Tournament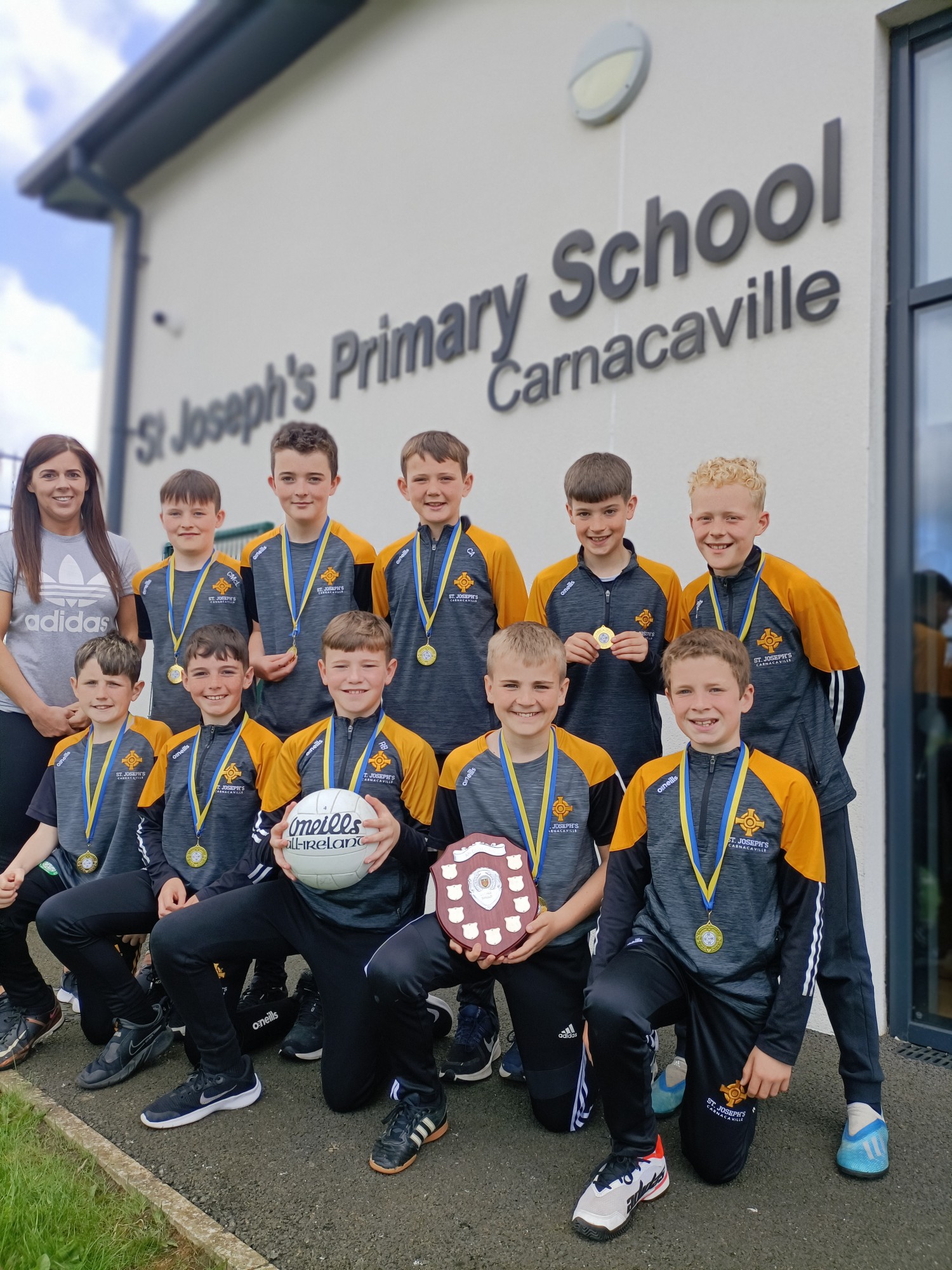 Our Primary 7 boys have returned home from St Louis Kilkeel Primary School Tournament as Shield winners. The tournament was very well attended with 12 local primary schools competing. The boys navigated a tough group stage and quickly dispatched Carrick Primary School, Burren in the semi final. They took on Kilbroney Intergrated, Rostrevor in the Final and quickly built up some early scores to keep their opponents at bay until the final whistle. Thank you to Mr McGahon and Mr Mussen for all their coaching throughout the year, it has really paid off. Thanks to Mrs Aisling Smyth for helping with Transport and Miss Laura Morgan for her backroom support of the 2 coaches.
Fiadh's County Debut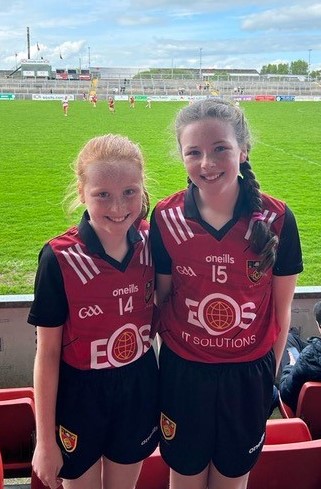 Congratulations to Fiadh Murray who was selected to play at half time of the Down and Derry Ladies Ulster Championship game in Pairc Ésler on Sunday.
Maith thú Fiadh and we look forward to seeing you play in the famous Red and Black again in the future!
Primary 4 First Holy Communion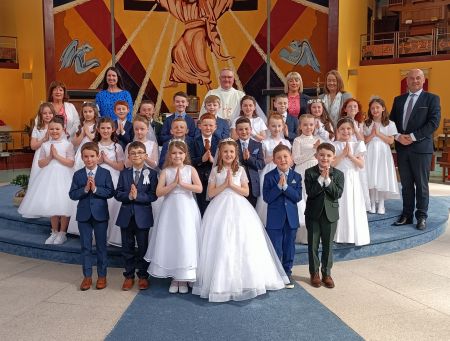 Wow! What a special time we had today with the girls and boys in Primary Four, as they received the sacrament of Holy Communion in Our Lady of the Assumption Church, Newcastle.
It was a beautiful ceremony.
The children were very respectful and showed great reverence throughout the Ceremony. All the hard work they put in really showed.
They were a credit to their families and we are immensely proud of them!
Stunning Views of Carnacaville
Thank you to Magnetic North Drone Photography for providing such splendid views of our school grounds and stunning surroundings.