P7 Team Success at St. Louis Tournament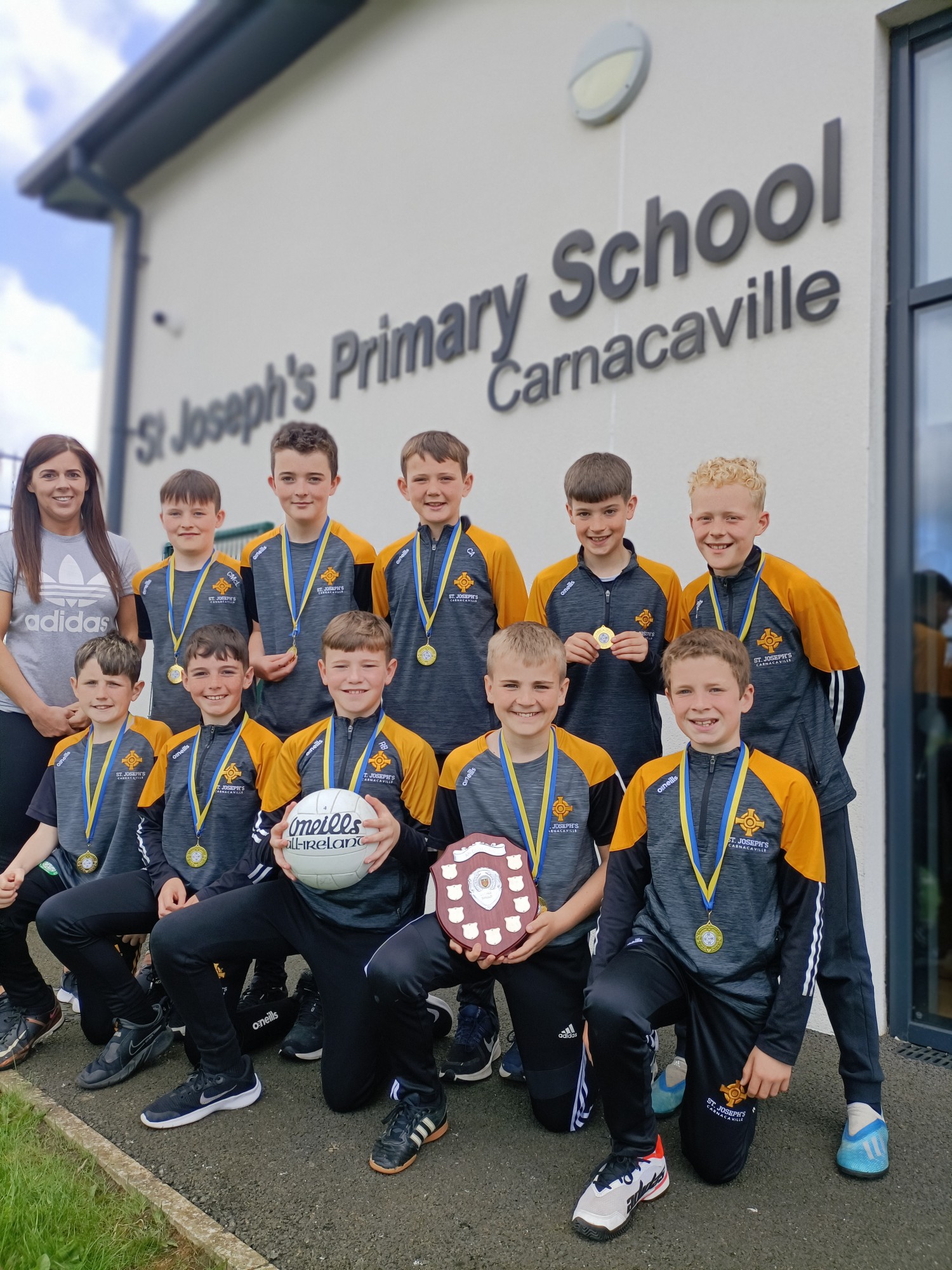 Our Primary 7 boys have returned home from St Louis Kilkeel Primary School Tournament as Shield winners. The tournament was very well attended with 12 local primary schools competing. The boys navigated a tough group stage and quickly dispatched Carrick Primary School, Burren in the semi final. They took on Kilbroney Intergrated, Rostrevor in the Final and quickly built up some early scores to keep their opponents at bay until the final whistle. Thank you to Mr McGahon and Mr Mussen for all their coaching throughout the year, it has really paid off. Thanks to Mrs Aisling Smyth for helping with Transport and Miss Laura Morgan for her backroom support of the 2 coaches.
Fiadh's County Debut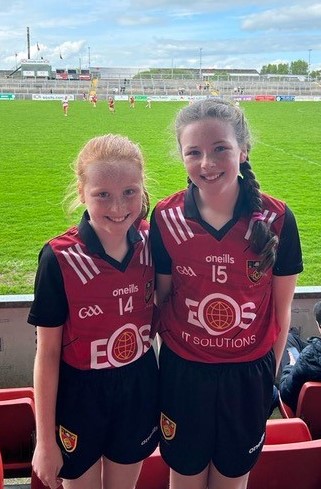 Congratulations to Fiadh Murray who was selected to play at half time of the Down and Derry Ladies Ulster Championship game in Pairc Ésler on Sunday.
Maith thú Fiadh and we look forward to seeing you play in the famous Red and Black again in the future!
Primary 4 First Holy Communion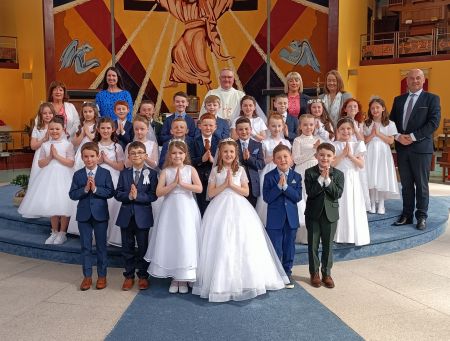 Wow! What a special time we had today with the girls and boys in Primary Four, as they received the sacrament of Holy Communion in Our Lady of the Assumption Church, Newcastle.
It was a beautiful ceremony.
The children were very respectful and showed great reverence throughout the Ceremony. All the hard work they put in really showed.
They were a credit to their families and we are immensely proud of them!
After Schools Activities with AB Coaching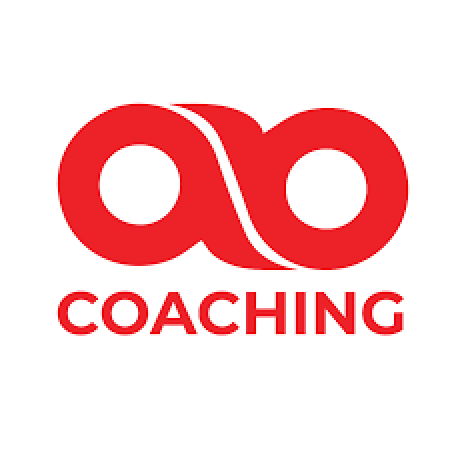 We are delighted to announce the beginning of our Extra-Curricular Programme at St Joseph's in partnership with our staff and AB Coaching. Each Tuesday, beginning on 4th October, AB Coaching will deliver a 'Multi-Sports' programme to a selection of classes in six week blocks. We are beginning with P3,P4,P5 and P6.
If you are interested in booking a place please follow the link below or follow the links in the email.
Please note: Places cannot be booked through school, they can only be booked through the service provider, AB Coaching.
A separate registration will need to be completed for each child.
Mr McGahon,Mr Mussen and Miss White will take Gaelic football coaching for Primary Six and Seven boys on Wednesday 12th October and for Primary Six and Seven girls on Friday 14th October. It will take place from 3.05pm to 4.05pm.
Basketball will also begin for Primary 6 and Primary 7 from Friday 14th October at 3:05pm - 4:05pm
Stunning Views of Carnacaville
Thank you to Magnetic North Drone Photography for providing such splendid views of our school grounds and stunning surroundings.
Upcoming Events...
Monday, 29th May 2023
May Bank Holiday (School closed for all pupils)
Friday, 2nd June 2023
Sports Day 9:30 sharp (Weather permitting)
Tuesday, 13th June 2023
P7 End of Year Play at 7:00pm in the School Hall
Thursday, 15th June 2023
P7 Leavers Mass 10:00am Church of the Assumption Newcastle (P7 pupils can be dropped into school at the usual time and we will provide a bus to and from the Church)
P7 Adventure Club over night residential (Pupils will return to school on Friday 16 June)
Wednesday, 21st June 2023
New Reception and Primary 1 induction Morning 10:00am (Current P1 pupils are asked not to attend school today.)
Friday, 23rd June 2023
Primary 7 Pupils last day of school